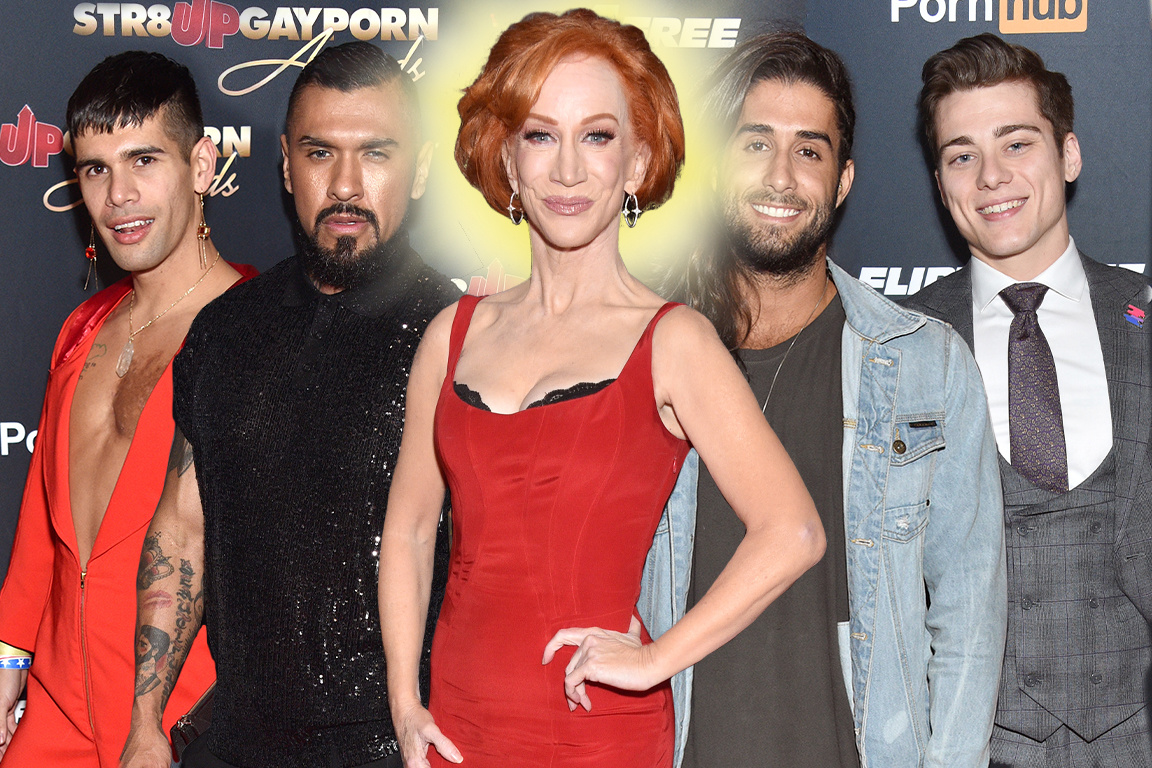 Critic's Choice Awards, or gay porn awards? Both took place last Sunday in Los Angeles, and I chose to attend the latter event. Because I am a person with what? Discerning taste.
None
"It's gonna be a night of all wrong," the night's host Kathy Griffin told me backstage moments before the 3rd annual Str8UpGay Porn Awards began, wearing a red Valentino gown and leopard print Ferragamos. "In my long and storied career I have never had more requests for comps than tonight — more than Radio City, more than Carnegie, more than the Sydney Opera House, the London Palladium."
None
Griffin knows the gig, having hosted the 2007 Gay VN Awards. That, and she's provided a lifetime of queer allyship and service to the community. She also knows what the gig is not: the GLAAD Awards, or a night intended to celebrate the entirety of the LGBTQ+ spectrum.
Kathy Griffin on Instagram: "What does one wear to host the @str8upgayawards? Why of course, @maisonvalentino dress @ferragamo shoes @ericacourtneyofficial earrings & a…"
None
"This is just good old fashioned gay boys," she said. "This is not LGBTQIA. This is old school gays pounding each other for money the old fashioned way and if some of them are gay for pay I don't judge and neither should you, goddammit." Choking back fake tears, she lamented, "I just love all the young versatiles who are finally getting the recognition they deserve."
None
Jokes aside, as pointed out by 2019 Best Newcomer Ty Mitchell on Twitter, the gay porn awards nominated more female directors than the 2020 Oscars. So as absurd a night it was (at times intentionally), it wouldn't hurt for the Academy of Motion Picture Arts and Sciences to take a few notes from Str8UpGay with regard to inclusion. Griffin adeptly balanced a tone that both poked fun at that absurdity while also respecting the hard — often rock hard — work that goes into making adult entertainment.
None
But let's talk about the fashion. Irony abounds in a room full of Adonis-like gay adult entertainers covered up in clothing. That's not to say there wasn't the occasional shirtless-under-a-suit-jacket moment, but for the most part the red carpet more fully fleshed out (ignore the pun!) the 360 degree life of a porn performer. "You're talking to Justin," Austin Wolf explained to me before picking up the award for Favorite Fan Content Creator, underscoring the distance between performance and real life.
None
Wolf covered his 6'4″, 230lb frame in a custom maroon velvet tuxedo from Suitsupply. "Can't really wear anything besides custom because my dimensions are a little… weird," he said with a twinkle in his eyes as though he might kill me… but in a way that I'd enjoy. His watch was Audemars Piguet — signaling, to me at least, that life as a porn performer can do a bank account good despite the fact that so much porn is available online for free.
Austin Wolf on Instagram: "Thank you @str8upgayawards @kathygriffin @jakejaxson for an amazing night. If u hadn't heard, I won "Favorite Fan Content Creator". I'm so…"
None
Keepings things classic was Performer Of The Year winner Blake Mitchell in a fully custom suit from Heywood & Ringo. Mitchell told me that he designed the suit with Emmy-nominated costumer Jessica Wenger, known for her work on Netflix's House of Cards. Carter Dane meanwhile, a Best Actor nominee, opted for a similarly elegant three-piece Calvin Klein suit. Eluan Jeunet, a Slovakian porn star who picked up Scene of the Year for his work in Blake Mitchell Is An American In Prague, kept things classy in a burgundy wool Alain Delon suit with a bowtie. "I didn't dress them," Jeunet says when I ask him for his thoughts on the room. "They'd look better if I did."
None
You also had your classic-adjacent set, who took the "standard guy at an award show" look and modified it ever-so-slightly. Favorite Versatile Star Max Adonis, for instance, adopted a harness-corset contraption over his all-black look. Favorite Gay Porn Star Cade Maddox wore a suit jacket that sparkled under the stage lights. Best Newcomer Rhyheim Shabazz opted for a cream turtleneck sweater under his gray blazer.
Sean Ford on Instagram: "PRETTY IN PINK 💖 Thank you @helmutlang @thomascawson"
None
Then you had your best dressed of the night, Sean Ford, who picked up Best Actor for his work in CockyBoys's Le Garçon Scandaleux wearing a prism pink jean suit courtesy of Helmut Lang. "I was actually drawn to this bubblegum pink denim set because the beautiful striking color reminded me so much of Marilyn Monroe's pink satin gown from Gentlemen Prefer Blondes," he told me.
None
Another notable contender for best dressed was Ty Mitchell, wearing a red crepe jumpsuit with peak lapels that opened to the waist courtesy of Brooklyn-based designer Sam Branman. Eye-catching details included the slightly flared vented sleeves, gold buttons and chain at the cuffs and small of the back. "This is actually based off of a look that Tori Amos wore on Jay Leno in 2001 and Sam's a big Tori-head and so I knew he'd be his heart into it," Mitchell explained."It was a nice way to bring some flamboyance and more femme energy to an event that focuses on performing masculinity," added Branman.
None
The biggest surprise of the night was the influx of femme energy wafting from all sides of the theater. There was Best Bottoming Performance nominee Levi Karter, who showed up to the event dressed as his drag self, Sassy Frass. There was Diego Sans in an olive caftan dress and sparkly silver heels; Calvin Banks wore House of Mann laser cut mesh "meggings" and a Coofandy mesh top; Küper wore a clear PVC belted harness courtesy of Toi Ano.
None
Favorite Bottoming Performance winner Boomer Banks wore one of the most head-turning looks of the night: a cumberbund with a ruffle bustle (think: Billy Porter's 2020 Golden Globes look). The ostentatious ensemble was a collaboration between Banks (himself a designer) and BCALLA.
None
Each of these looks were effective in communicating an identity not necessarily in opposition, but certainly in addition to the adult entertainer stereotype that many fans know and love. On a night intended to celebrate hedonism and machismo, the red carpet wares added more gradient to the men represented on film, showing an industry brimming with individuality and unencumbered self-expression.
None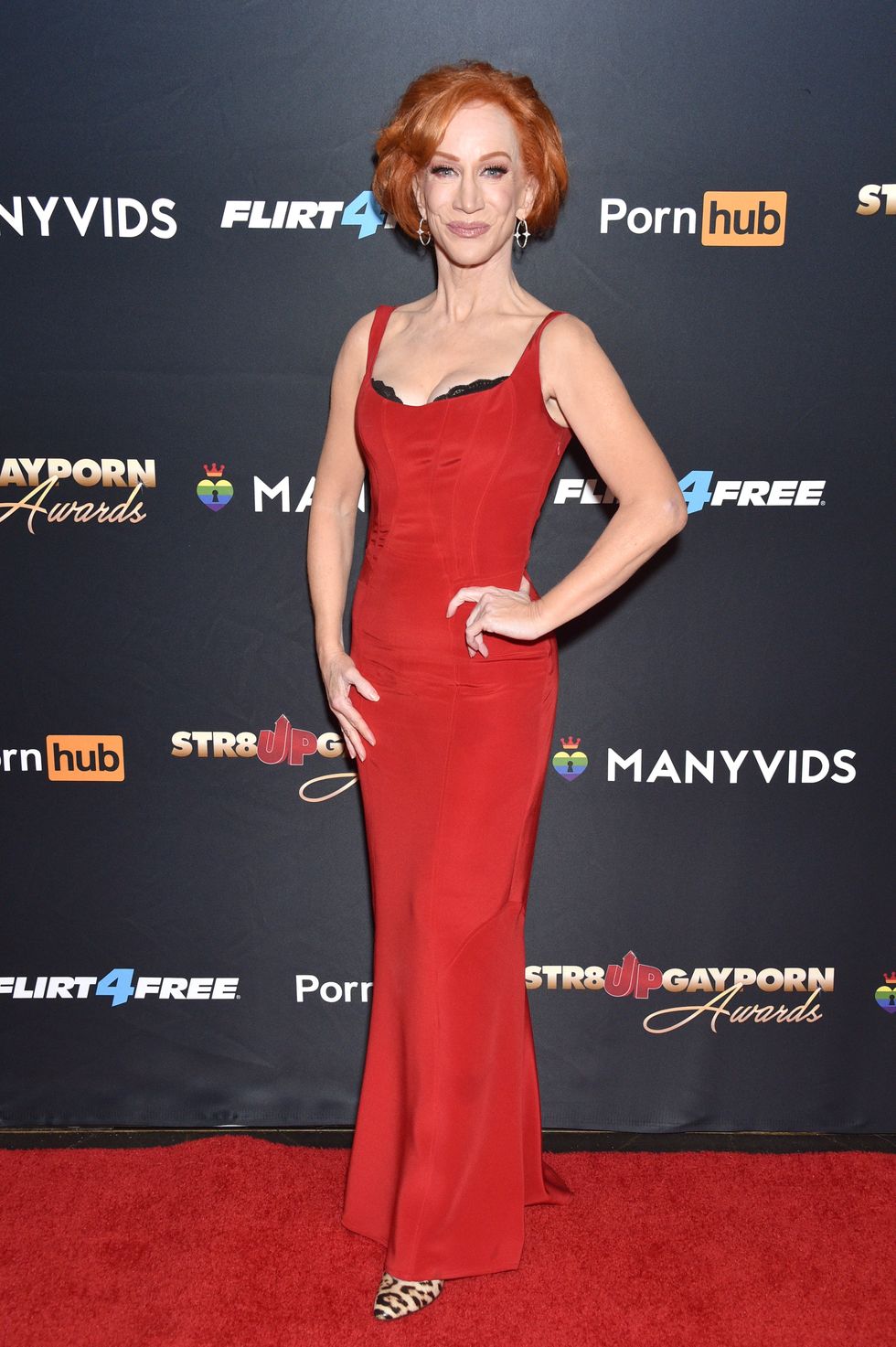 None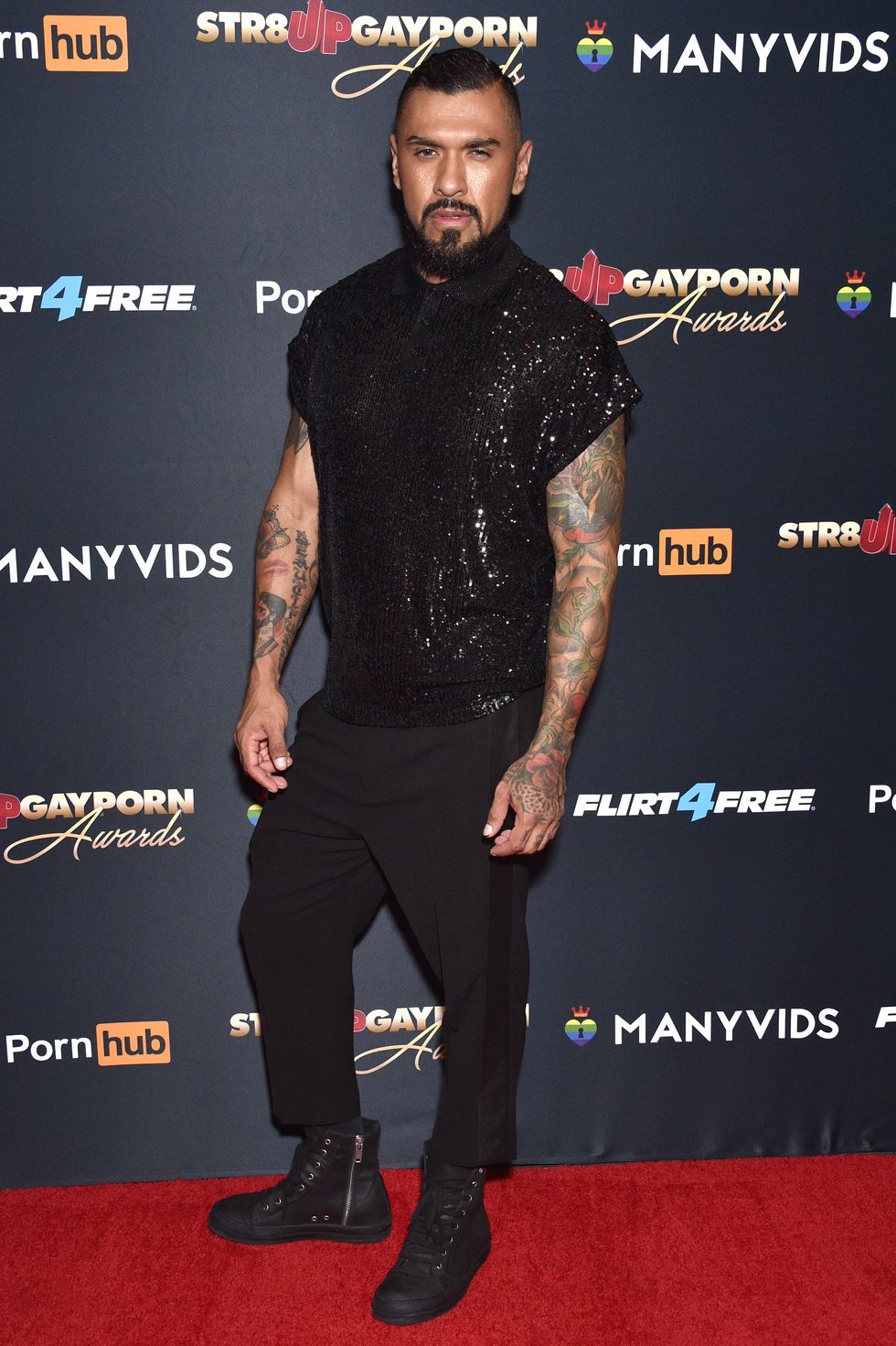 None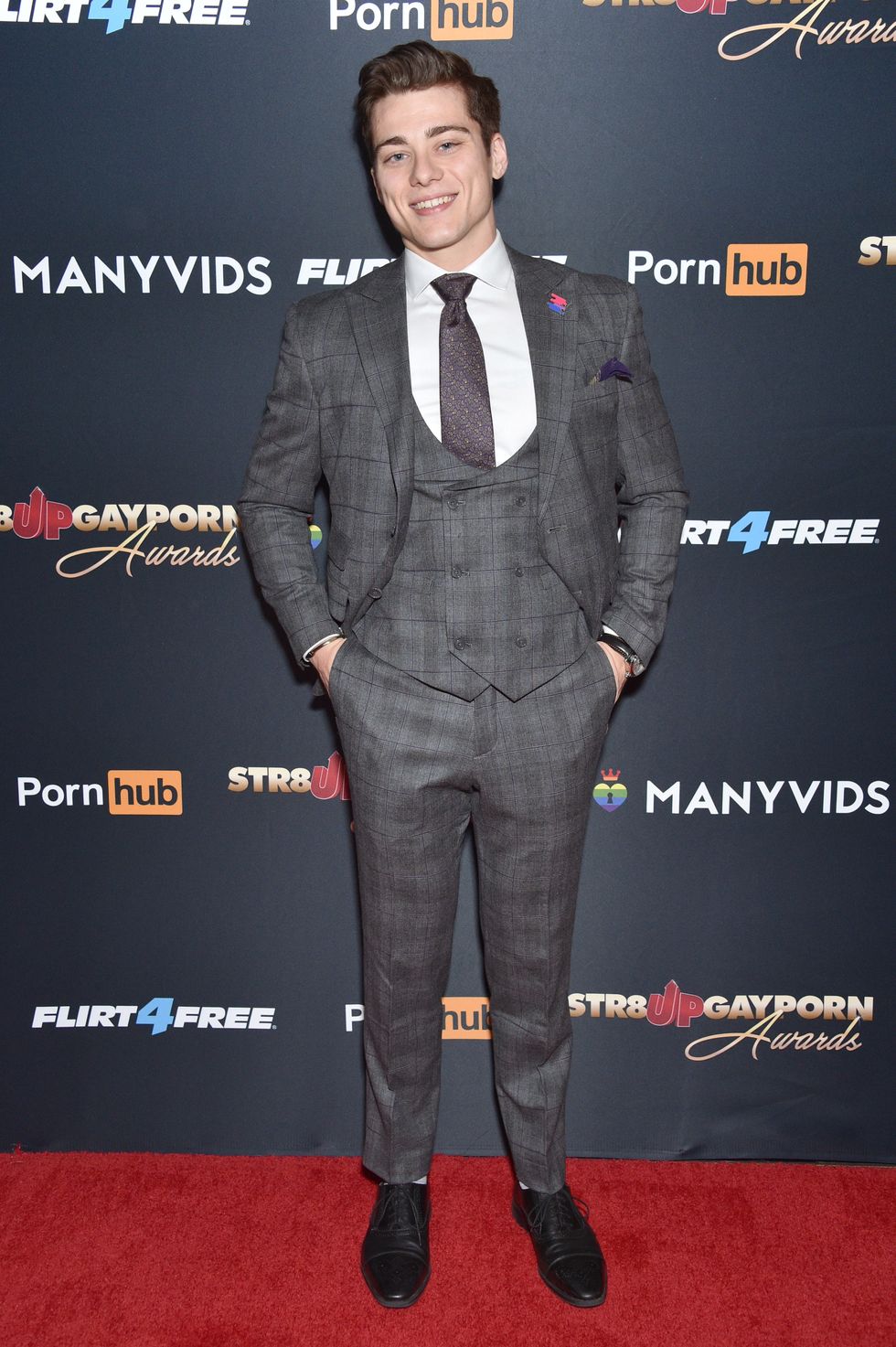 None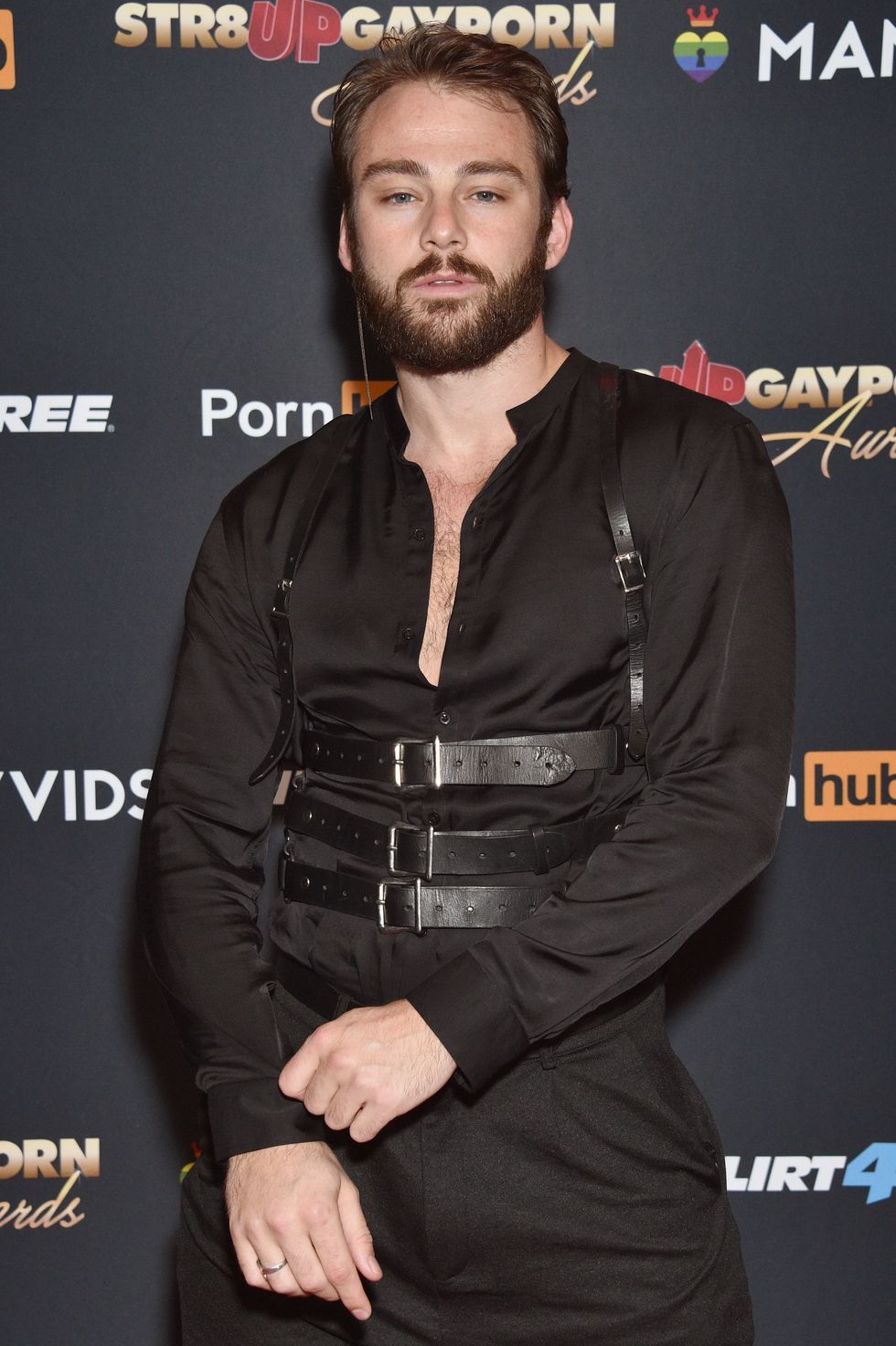 None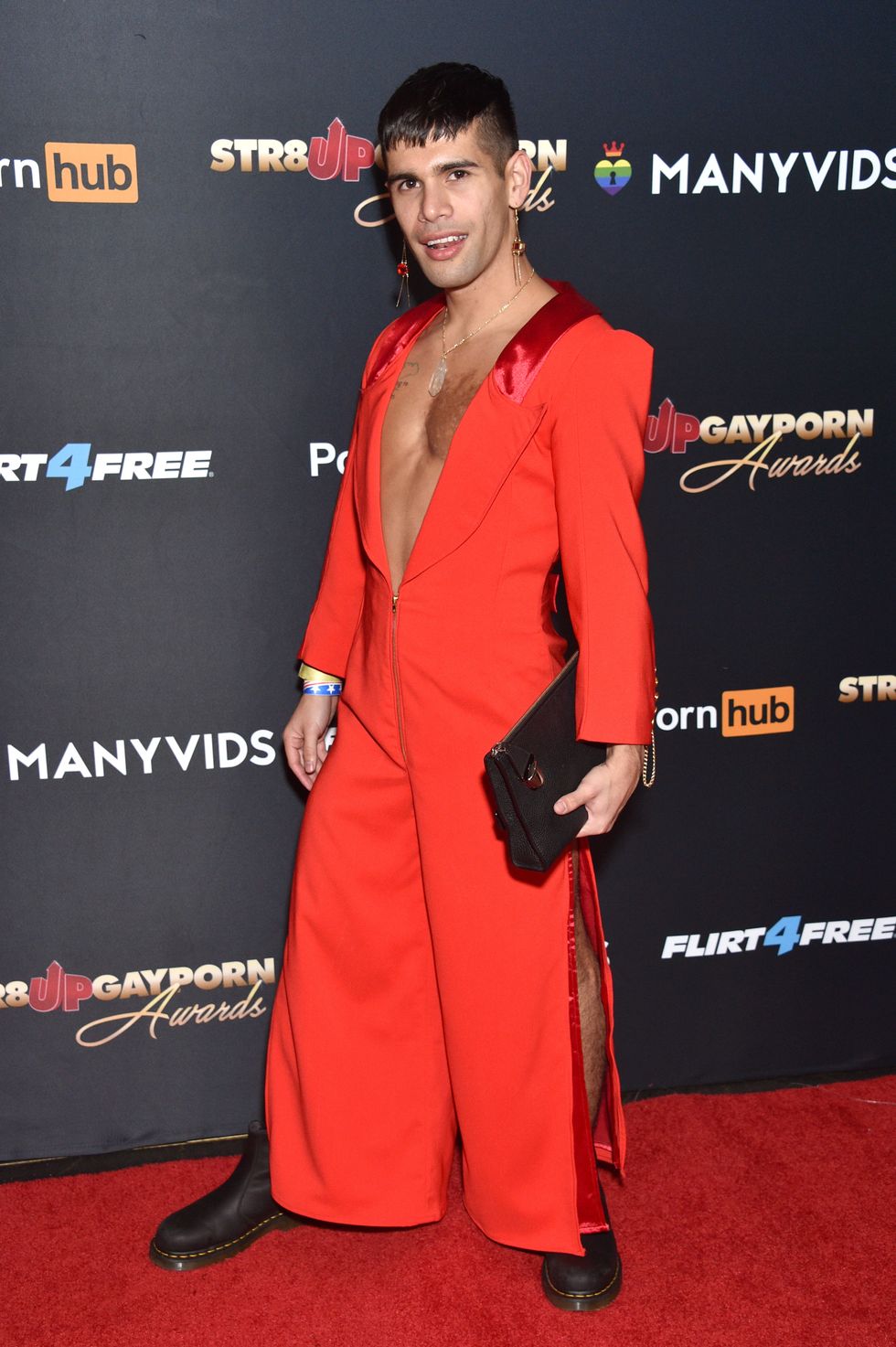 None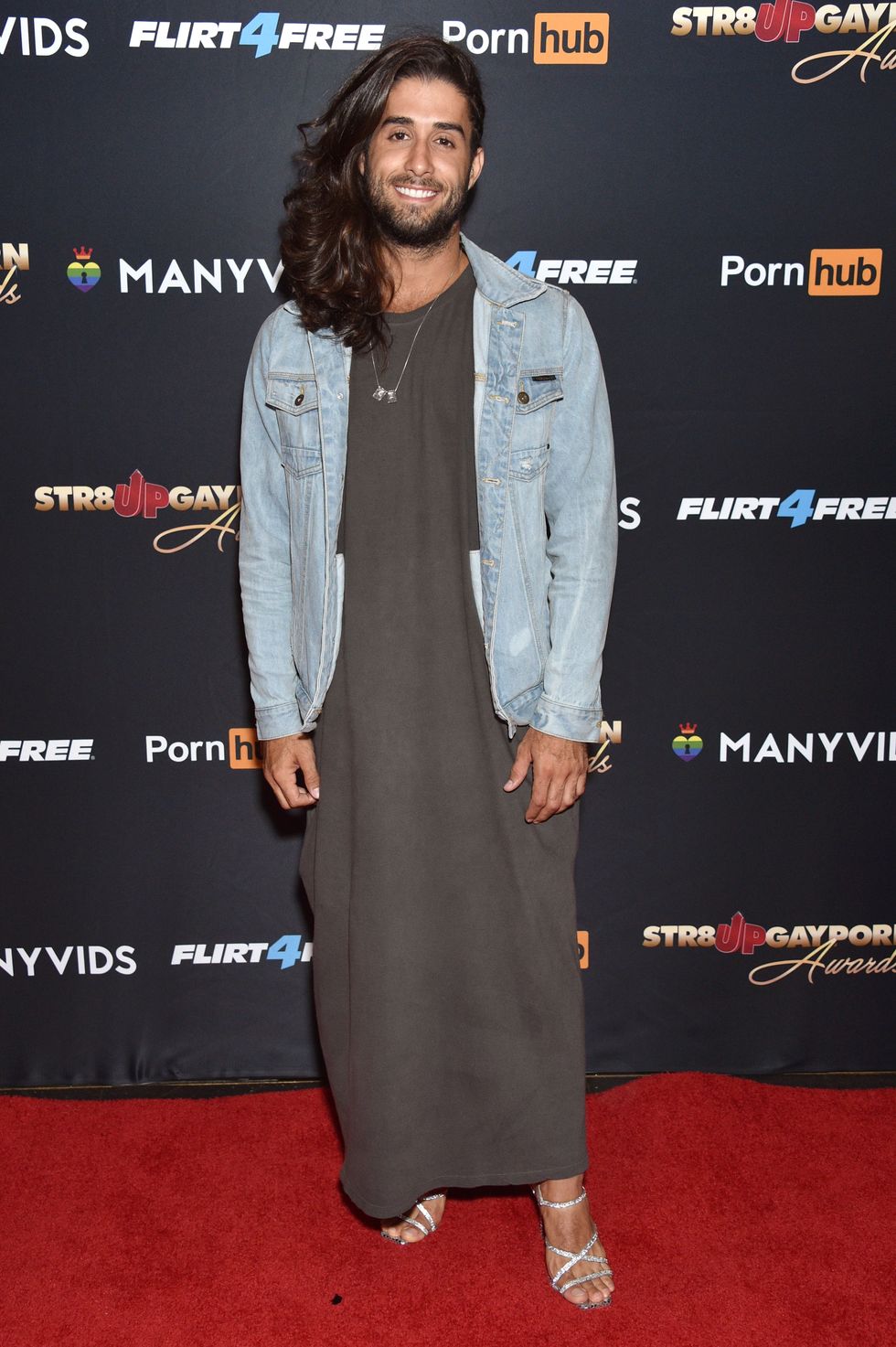 None
Welcome to Wear Me Out, a column by pop culture fiend Evan Ross Katz that takes a look at the week in celebrity dressing. From award shows and movie premieres to grocery store runs, he'll keep you up to date on what your favorite celebs have recently worn to the biggest and most inconsequential events.
None
Photos via Getty