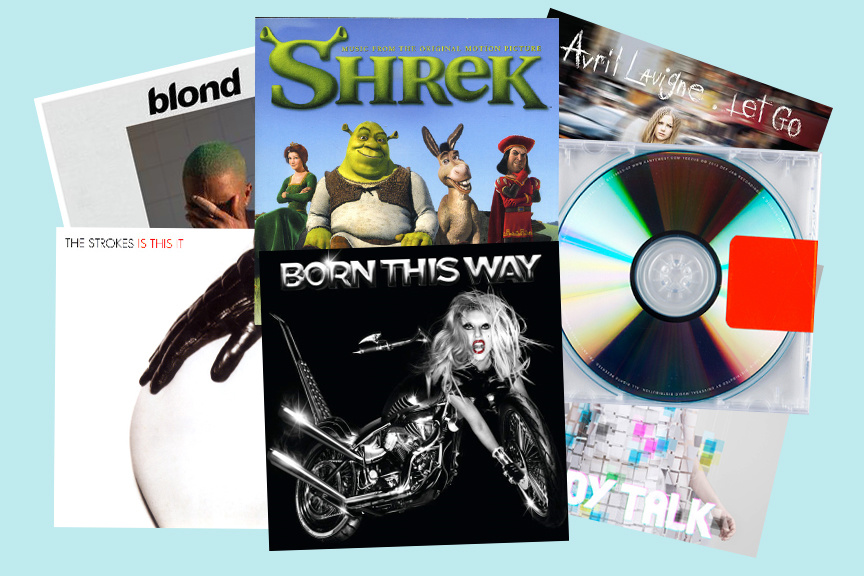 In the era of streaming and playlists, this week Music Twitter still insisted upon asking what honestly feels like an old fashioned question: What are seven albums define you?
A riff on the classic ranking your desert island discs formula, it induced a full-on office meltdown when posed to the editorial team. We love a meme, but no one wants to choose between Kanye records. Or Avril Lavigne ones, for that matter.
Still, we tried our best, and like to think the brutal honesty present here (Shrek soundtrack; The Essential Bob Dylan) is indicative of our music critic credibility, rather than lack thereof.
Below, in no particular order, the PAPER team's painstaking, Gwen Stefani-heavy lists. Don't judge too harshly!
Related | PAPER's Top 10 Albums of the '10s
Brendan Wetmore, Writer
Pure Heroine – Lorde
Pink Friday – Nicki Minaj
Rodeo – Travis Scott
Teenage Dream – Katy Perry
The 1975 – The 1975
Product – SOPHIE
Disneymania 3 – Various Artists
Justin Moran, Digital Director
Beauty Killer – Jeffree Star
Gay Dog Food – Mykki Blanco
Born This Way – Lady Gaga
L.A.M.B. – Gwen Stefani
Celebrity Skin – Hole
Arular – M.I.A.
You Love You – Semi Precious Weapons
Jael Goldfine, Entertainment Reporter
Under My Skin – Avril Lavigne
The Essential Bob Dylan – Bob Dylan
Chuck – Sum 41
Music From the Motion Picture Juno – Various Artists
The Year of Hibernation – Youth Lagoon
Bury Me at Makeout Creek – Mitski
CTRL – SZA
Abby Schreiber, Executive Editor
Spice – Spice Girls
Graduation – Kanye West
Kala – M.I.A.
Back to Black – Amy Winehouse
Guns Don't Kill People… Lazers Do – Major Lazer
Santigold – Santigold
Under Construction – Missy Elliott
Related | PAPER's Top 10 Songs of the '10s
Taylor Roberts, Social Media Editor
The Flying Club Cup – Beirut
Blond – Frank Ocean
Treats – Sleigh Bells
Get Yer Ya-Ya's Out! – The Rolling Stones
Chronicle: the 20 Greatest Hits – Creedence Clearwater Revival
Dying Is Your Latest Fashion – Escape the Fate
The Velvet Underground & Nico -The Velvet Underground & Nico
Kat Gillespie, Features Editor
Let Go – Avril Lavigne
Carrie & Lowell – Sufjan Stevens
The Idler Wheel Is Wiser Than the Driver of the Screw and Whipping Cords Will Serve You More Than Ropes Will Ever Do – Fiona Apple
The Modern Lovers – The Modern Lovers
Blood on the Tracks – Bob Dylan
Yeezus – Kanye West
Mid-thirties Singles Scene – Scott & Charlene's Wedding
Related | PAPER's Top 20 Albums of 2019
Eliza Weinreb, Managing Editor
CTRL – SZA
Jagged Little Pill – Alanis Morisette
Born to Run – Bruce Springsteen
Saves the World – MUNA
L.A.M.B. – Gwen Stefani
Melodrama – Lorde
Autobiography – Ashlee Simpson
Michael Love Michael, Culture Editor
American Life – Madonna
Exile In Guyville – Liz Phair
With Teeth – Nine Inch Nails
Tasty – Kelis
Aaliyah – Aaliyah
Yeezus – Kanye West
Blackout – Britney Spears
Related | PAPER's Top 50 Songs of 2019
Matt Moen, Writer
David Waxman Pres. Ultra Electro – Various Artists
Manners – Passion Pit
Worlds – Porter Robinson
Platform – Holly Herndon
PC Music Vol. 1 – Various Artists
The Suburbs – Arcade Fire
Yeezus – Kanye West
Related | Here's How to Nail Lady Gaga's Accent
Jeena Sharma, Beauty Reporter
Is This It – The Strokes
Let go – Avril Lavigne
The Stylistics (Debut Album) – The Stylistics
Rumours – Fleetwood Mac
Blackout – Britney Spears
Breakaway – Kelly Clarkson
It's Not Me, It's You – Lily Allen
Charlotte Spritz, Editorial Producer
Shrek 1 Soundtrack – Various Artists
Chelsea Girl – Nico
Let Go – Avril Lavigne
Anniemal – Annie
Born To Die – Lana Del Rey
Back to Black – Amy Winehouse
Rubber Soul – The Beatles
Related | From PSY to BTS: The Decade K-Pop Went Viral
Michelle Tennant, Editorial Assistant
Jagged Little Pill – Alanis Morissette
Cold World: The Sideline Story – J. Cole
1975 – 1975
blink-182 – blink-182
good kid, m.A.A.d city – Kendrick Lamar
Frank – Amy Winehouse
Light Me Up – The Pretty Reckless
Mario Abad, Fashion Reporter
Metamorphosis – Hilary Duff
Lungs – Florence + the Machine
Fearless – Taylor Swift
Revolution – Miranda Lambert
Under My Skin – Avril Lavigne
Body Talk – Robyn
Melodrama – Lorde